Hanging out with Family at the RocBar :)We had a great time and I couldn't of asked for a better group of people to be around me that night! The laughter just kept on coming...LOVE IT!!!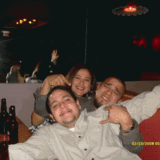 Are we having fun yet?? SMILE!!













Silly boyz!











Pete NOOOOOOOO!












Fun!











We are going where after this?














U see Tia Loly?!














Too Cute!














BJ always in the mix!











Slap him again please!











Yes, I have legs!!!